The Smoking Fetish
What is it about girls who smoke? Is it about oral fixations? Is it the lasting images of 20th century glamour? Is it about the types of girls who smoked, when you were growing up? Is it about the dark side: knowing it's dangerous and harmful, but doing it anyway? The answer....is yes. People who are attracted to women who smoke...
Smoke Signals Online
In 1999, after five years of successfully publishing a smoking fetish magazine, we moved into the online world with the first-ever smoking fetish membership site: Smoke Signals Online. Well over ten years later, the site is still going strong, with more than 250,000 smoking fetish photos and more than 100 hours of exclusive smoking fetish video. We've updated the site weekly...
Program Changes
SmokeCash has changed from a NATS-based program with two sites, to a CCBill-based program with a different site. There are some good reasons for that. Many of you have known - and sent traffic to - the sites that were part of SmokeCash for many years, including Sexy Smokers, the site that we first operated...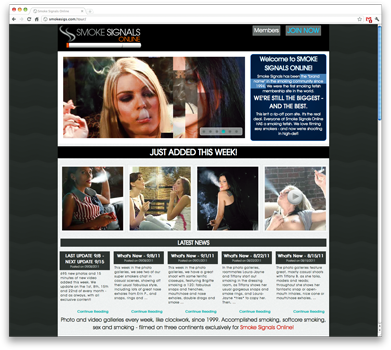 About Smoke Cash
Welcome to SmokeCash - the online home of the smoking fetish since 1999. SmokeCash is the true pioneer of smoking fetish websites on the adult internet. What makes us different, is that everyone at SmokeCash has a smoking fetish. That means we're uniquely in tune with what smoking fetish surfers want to see - leading to signup and retention rates far above any of the competition. In fact we still have members to our flagship site who have been recurring for more than ten years. We spend thousands of dollars a month on high-def smoking content, unlike all the other sites that are satisfied to just throw up videos of porn models who aren't even real smokers. Our members understand that difference, and when you promote us you'll see the difference too - in your bottom line. Sign up now to promote Smoke Signals Online, the groundbreaking smoking fetish flagship of SmokeCash!
In today's industry, the key is finding unsaturated, or underserved, niches to promote. That's why smoking fetish is a perfect promotional opportunity. There are certainly other smoking fetish programs out there, but most of them have trouble finding good content. We don't have other niches to worry about, so we just shoot specifically for our site - and our members appreciate that. We also don't have $2.00 trial joins, so when someone joins our site - you get a real payout.
Sign up now to promote Smoke Signals Online, the flagship site of SmokeCash!




Promote Smoke Cash Today - Click here to Become an Affiliate